Are you ready to adapt and thrive with mindfulness?
First in the Q delivers practical, evidence-based mindfulness programmes and consultations for schools, businesses and organisations; helping people deal more effectively with the challenges of life and work. We specialise in helping individuals and groups experiencing high-levels of stress to develop a highly relevant and useful skill.
Mindfulness is an innate capacity of the mind to be aware of the present moment in a non-judgemental way. It enables us to access inner resources for coping effectively with stress, difficulty and illness. This promotes a way of being that helps us to take better care of ourselves and lead healthier lives.
As the old saying goes: Knowledge is knowing a tomato is a fruit. Wisdom is not putting it into a fruit salad.
Practicing mindfulness is about learning to harness a way of being. Our courses give you an introduction to the tools you need and are geared to your particular circumstances.
Make contact now for an initial consultation.
To find out more about mindfulness, please go to our resources section
What is mindfulness?
Mindfulness is simple but not easy to achieve.  In a world of striving, we just don't know how to pay appropriate attention to what we are doing, so we carry on missing whole chunks of life. We get caught-up in over-thinking which impacts our well-being and this makes us unnaturally tired and prone to depression and anxiety.
Mindfulness is an integrated, mind-body based training that helps people to calm the mind. With calmer, more peaceful minds, we are able to handle the inevitable ups and downs of life more skilfully.
The benefits of mindfulness have been widely reported, with scientific studies showing the following:
people who regularly practice mindfulness, show changes in the brain associated with decision-making, attention and empathy
the area in the brain associated with the regulation of emotion is increased by regular meditation
regular meditators report an improvement in attention, job performance, and productivity
meditation has a positive effect on the cardiovascular system
People who have learned and continue to regularly practise mindfulness report:
long-lasting physical and psychological stress reduction
an overall increase in their well-being
are better able to control addictive behaviour
less likely to get stuck in depression and unnatural tiredness
If you'd like more information contact First in the Q.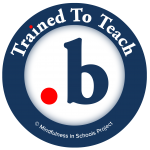 Mindfulness and schools
In Evidence for the impact of mindfulness,' Professor Katherine Weare of Southhampton University's School of Education found schools which engage in mindfulness are likely to see "beneficial results [in terms of the] emotional well-being, mental health, ability to learn and even physical health of their students."
I am able to provide tailored mindfulness courses and talks to suit the following groups:
Students 11 – 18 years
Teaching Staff
Parents
Why not get in touch today, to discuss your school's requirements
For more information about .b classes go here.
Mindfulness for business
Mindfulness training for business is an investment in reducing the costs of health care and absenteeism associated with stress-related conditions, as well as improving employee retention, satisfaction, and overall engagement.
According to the Health and Safety Executive's report on work related stress published in 2015:
work related stress, depression and anxiety represents a significant problem in the workforce of Great Britain
it is the biggest cause of sickness in the UK
over 10 million days are lost to stress each year – costing employers £1.24bn
work related stress accounts for 35% of work related ill health and  43% of days lost, in 2014/15
the highest rates of work related stress remain consistently in the health and public sectors of the economy
A mindfulness-driven culture can:
help mitigate against work-related stress
support growing demands for a flexible and adaptive workforce
help raise the ethical level of organisations (competitive advantage)
If you think your business would benefit from mindfulness get in touch here.
Mindfulness for Veterans
Sue has a particular interest in delivering mindfulness-based stress reduction courses to military and ex-military personnel. Having served in the Royal Navy herself, Sue has an understanding of the military mindset and what can be asked of an individual who signs up.
It is generally accepted that many veterans bring a variety of chronic medical conditions as well as the life stress associated with dealing with these conditions to their mindfulness course. They may also come to a mindfulness group with very heavy mental health burdens, including significant symptoms of depression and PTSD. However, these do not necessarily preclude participation in a course. Many do go on to participate in a 8-week course and benefit from it.
If you run a group for veterans and would be interested in starting with an orientation session about mindfulness or would just like an informal chat, please contact me here.
Sue Wright
I had the idea for First in the Queue some years ago when I was working in high-pressure environments within the private business sector. At its heart  lies the premise that if we want things to change, we have to embody the change we wish to see. By doing this work, putting ourselves front and centre, in this context, it enables us to flourish and have better relationships with others. 
I've had my own mindfulness practice for many years (a pre-requite for teaching mindfulness to others) and have studied Mindfulness-Based Approaches at Bangor University's School of Psychology. In 2015 I became a certified .b teacher, teaching mindfulness to young people (11 – 18 years).
Sue is currently studying for a 3 year MSc, Studies in Mindfulness, with the University of Aberdeen. The unique focus of this course is a compassionate approach to mindfulness practice that is the basis for deepening insight, which then enriches one's life and work.
I believe that mindfulness can be successfully introduced into every day life for the benefit of both individuals and organisations. I am able to draw on both my military and commercial experience to ensure mindfulness can be successfully aligned and embedded into life as it is, not as we would hope it to be.  
For more information about mindfulness contact Sue here.
Contact First in the Q to learn more about mindfulness